This article is an extract from the book 'Everything you need to know about Xero Practice Manager'
Get a copy for your desk at www.linkedpractice.com
There are some settings in XPM you need to get right. In this section we'll be reviewing the essential settings to ensure your practice is set up to succeed.
To get started, go to 'Business > Settings > Custom Templates' in your XPM.
Custom templates: Document designs
Custom templates allow us to design the look and feel of the documents we create in XPM. Many of the document types available we don't need to use, but there are some situations where we might need them, so we'll cover these scenarios below.
Where invoices are sent from
Now is a good time to discuss a common point of confusion: where do I send my invoices from when using XPM and Xero? The answer is Xero. Despite XPM providing greater flexibility around the information we can include on invoices, there are several reasons why we should send our invoices from Xero:
Xero allows us to include payment services on our invoices so our customers can pay us faster.
Xero invoices have online versions so we can see when customers have received and opened the invoices we send.
Xero payment reminders allow us to customise and automate the reminders that get sent for late invoices, helping us to get paid quicker.
Xero's invoice history is easier to view, add notes to and read, which allows us to capture collections information easier.
Xero is where we manage our debtors and reconcile our bank accounts.
Our fixed-price agreement invoices will be sent from Xero. This ensures our invoices have a consistent look and feel.
There are some downsides to this, however:
Fewer staff have access to Xero, which means that although we can delegate invoice creation to the people who know these jobs best (job managers or partners), the sending of these invoices still needs to happen in the accounts department. This can create bottlenecks for a practice.
Xero invoices are easily edited. This is a strength and a weakness, as changes to invoice values or line item descriptions do not flow back to the invoice in XPM. This can cause budget vs invoiced value discrepancies where we are generating multiple progress invoices.
Having to edit invoices in Xero duplicates the effort that has gone into creating quotes, jobs and generating invoices in XPM.
Invoice designs
What the above means for you is that you don't need to design your invoices in XPM as nobody will see them. We'll need to design our invoices in Xero as these are the invoices our customers will be receiving.
Quote designs
It is important that there is a consistency and ease of creation for beautiful, simple quotes your customers will engage with. If each of your partners in your practice has their own way of generating proposals, those variations in design, budgets, activities, terms and pricing flow through to jobs, schedules, time sheets, invoices and reporting. This will create a nightmare for you later on, if it isn't already. The easiest way to resolve this is to use Practice Ignition, which provides consistency, visibility, manages payment/collection, and automates job creation for you. Practice Ignition will be covered in more detail in Chapter 7: Setting Up Engagements.
The second-best option is to use quotes inside XPM. These allow you to create and send proposals for services to your customers quickly and consistently. For this you will need to design your quotes to represent your brand, including your terms and conditions etc. The default templates provided look like default templates. When you design your quote template, consider the look and feel of your Xero Invoice. The more branding consistency we have, the better.
Tax letters
There are some tax-related documents we can quickly generate from XPM including payment letters and cover letters for various tax returns. These are under 'Business > Settings > Custom Templates > Samples' and are a great place to start designing your own versions of these documents.
Select 'Use Template', click into the template and 'Download' to get started adding your own look, feel and wording to these documents. Save and upload them back to the same place you downloaded them, and you'll find them ready to use immediately.
Note that this area will only be present for certain regions around the world such as New Zealand and Australia.
Invoice statements
Here is another document you never need to worry about inside your XPM. We generate our statements in the same place we send our invoices from – Xero. This is because our Xero is connected to our bank accounts, is reconciled daily, and is the most up-to-date source of accounts receivable information. Although you can generate invoice statements from XPM, don't.
Purchase orders
Few accounting practices send purchase orders to their outsourced service providers or subcontractors. These suppliers typically work on a contracted agreement that doesn't require the ongoing use of purchase orders. If, however, you do have some subcontractors that you engage on an intermittent basis to do very specific tasks, on a specific range of jobs, you may consider preparing and sending them a purchase order. This will ensure they are clear about exactly which jobs they are meant to be working on and what activities you want them to do for you, in what timeframe, and at what price.
By taking these ad-hoc intermittent agreements out of your inbox and into a job, our entire practice can see who is doing what services, how much for, and whether they have invoiced us yet. If you engage subcontractors in this way, or might do in the future, take the time to design a professional-looking purchase order now. Your subcontractors and other team members will thank you for it.
Enjoy this article? Buy the book.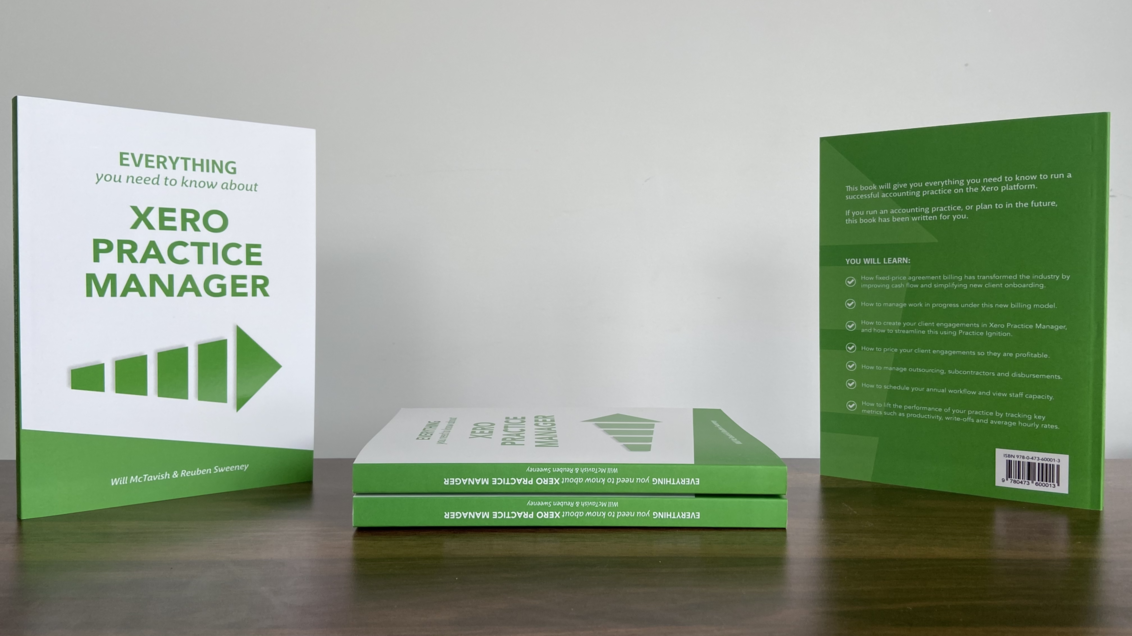 Need help setting up, fixing up, or getting up to speed on Xero Practice Manager?

We can help at www.linkedpractice.com