This article is an extract from the book 'Everything you need to know about Xero Practice Manager'
Get a copy for your desk at www.linkedpractice.com
Practice reporting looks at both WIP, and a combination of productivity, write-offs and average hourly rates at a practice level. WIP is the bank account balance you never knew you had. It represents all the unbilled time and cost in your practice. It is our objective to turn WIP into invoices as fast as possible, so it can turn into cash.
We also want to lift productivity at a team member level, and reduce our write-offs on our jobs and clients. Focusing on improving these metrics right down at a job and individual staff member level will improve the overall performance of a practice. We want to manage the micro, to improve the macro.
Let's start by looking at measuring and managing WIP, then look at ways to improve our practice performance overall by focusing on just a few key metrics. Finally, we will look at a practical example of how we tie it all together to improve the overall performance of our practice.
Measuring WIP
WIP is a balance that exists within your practice representing the value of work done that has yet to be invoiced. It is the billable value of time and disbursements, less the invoiced value within the period, plus any write-ons, minus any write-offs. WIP for a period can be represented like this:
Opening WIP Balance
+ Billable value of time
+ Billable value of disbursements
- Invoiced value
+ Write-ons
- Write-offs
= Closing WIP Balance
Like a running ledger, this balance updates with every time sheet, disbursement, invoice, write-on or write-off that occurs within your practice.
The dates the above transactions are recognised on are an important part of measuring WIP correctly for your practice. The billable value of time is measured via time sheets as the billable hours added to your jobs at the various billable rates of your team. The date used here is the time sheet date. The billable value of disbursements is the value of a disbursement at the rate we would on-charge this to a customer at the quantity incurred. The date used here is the date the disbursement is incurred. Invoiced value is determined by the invoiced date. Write-ons and write‑offs are recognised at the write-on and write-off date, not the date of the underlying time sheet or disbursement being written on/off.
WIP can be positive or negative for your practice. A positive balance is your traditional idea of WIP and is sometimes called billable WIP. This is because it represents the expected value of future invoices based on the work done yet to be invoiced. This is a current asset to your practice and is one step removed from your accounts receivable. WIP turns into accounts receivable and accounts receivable turns into cash in your bank account. WIP is the bank balance you didn't know you had.
A negative WIP balance has become a lot more common in practices with the popularity of fixed-price agreements. Negative WIP represents the value of work invoiced yet to be done. This is a current liability to your practice as if you were to shut up shop today, you would still have a present obligation to deliver your services, arising from a past transaction (the customer invoice). A job or practice will have a negative WIP balance where we invoice for our services in advance through a fixed monthly retainer-type payment or via a deposit invoice.
Your practice WIP balance is made up of the sum of all the individual WIP balances on all the current jobs in your practice. Jobs that we invoice in arrears will likely have a positive WIP balance. Jobs that we invoice in advance will likely have a negative WIP balance. The WIP balance of our historic or completed jobs should be zero. The WIP balance on your internal admin or leave jobs should also be zero.
It is likely that you will have both types of balances existing within your practice. Although your practice may have a net positive WIP balance it may be disguising a larger positive billable WIP balance offset by a smaller negative WIP balance. While knowing your total WIP balance is valuable from an asset and liability perspective, it is much more important to know and understand your billable WIP and negative WIP balances separately. This is because the decisions we make using our billable WIP balance are very different to the decisions we make with our negative WIP balance. We will be covering this in more detail in the next section. For now, just understand the factors that make up your WIP balance, how it is calculated, and that you have both negative and positive WIP balances within your practice which you need to measure separately.
Enjoy this article? Buy the book.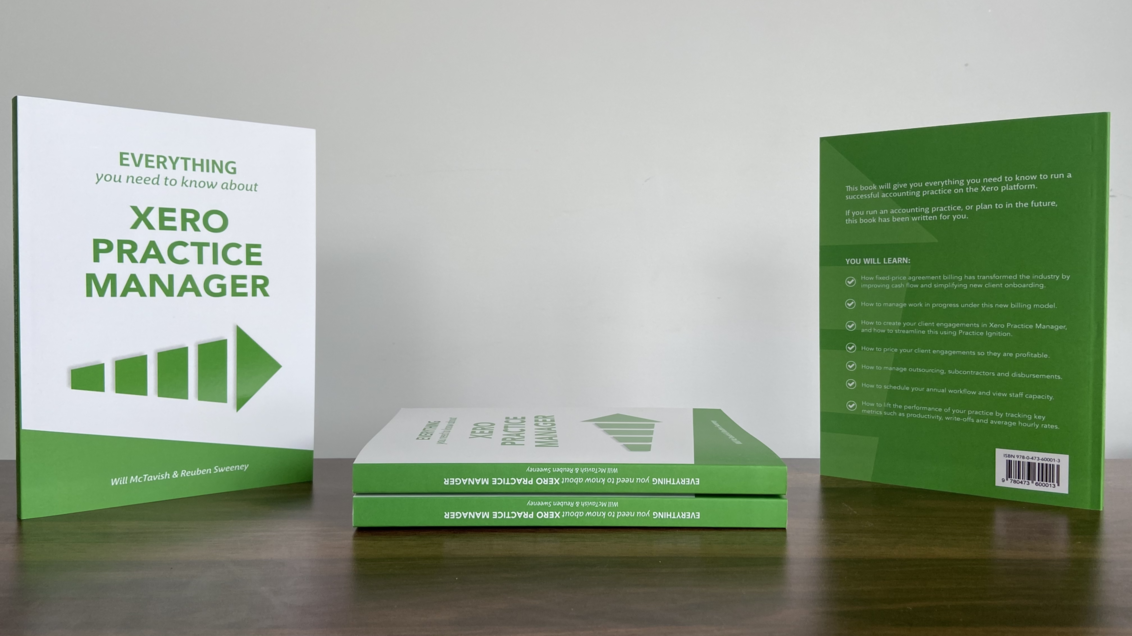 Need help setting up, fixing up, or getting up to speed on Xero Practice Manager?

We can help at www.linkedpractice.com