Issue:
Sometimes we find ourselves doing work for or sharing resources with a related entity that is not part of our XPM/WFM. Some examples of where this can occur:
a. We have a related entity owned by the same people with a separate Xero (blue) but the clients are the same and our team work across both. The services offered might be different ie Wealth vs Accounting or Mum & Dad brand vs Commercial brand.
b. We have a related entity with a completely separate set of clients and services, but our team works across both. ie Separate offices with separate Xero (blues).
c. We have a related entity that does not share any clients, services or people but our director or partner as a side-hustle or past-hustle providing consulting services and wants to make sure of the time and invoicing in XPM to keep track of this.
Strictly speaking only transactions related to the XPM you are working in should be recorded. This includes any timesheets, invoices, clients and jobs. XPM would prefer if you had separate XPMs for any other entities you or your team might need to work in, as you would have separate Xero (blues).
The golden rule of any practice management app is to align our revenue and our time. This means we can't have time for which there is not revenue and revenue for which there is no time. When we're measuring the performance of our people, client or services however, we would want to necessarily include work related to those other entities. So what can we do? There are four options:
Option 1: Separate non-billable job and task
For all work related to related entities we would set up a separate non-billable job with a series of non-billable tasks related to the type of work we do for that entity. The benefit of this is that we are not accumulating WIP here and we can still track our time (although it has no value). The downside is that our team who might work on these jobs appear to be non-productive (which they are to the entity they are logged into). This deflates their productivity, billable amount and average hourly rates. The same goes for the services (tasks) to which we put our non-billable time.
Option 2: Separate Billable job and task
As above however we could identify these job-tasks for the related entity as billable. This has the benefit of allowing us to capture our time and associating a value with it. It also does not have a negative effect on the productivity of our team. The downside is that the WIP balance grows forever so we need to at least monthly write this time off in order not to inflate our practice WIP balance. This has the effect on our people and services of making them appear less effective with higher write-offs than they would otherwise have.
Option 3: Zero-value custom billable rate
When setting up our inter-entity job (or jobs) we can assign a zero value billable rate to this client or job. To make it universal for all jobs for this client go to the related entity Client>Options>Edit>Billable>Custom Task Rates.
To make it specific to the job you have created go to the financial tab inside the job>click here (at the top)>Custom Task Rates.
The benefit of this is that our time working on inter-entity jobs appears productive for our team and does not inflate our practice WIP balance. Because we're not needing to do write-offs here, our teams recoverability is not affected. The only fields negatively impacted for our people and services are Billable Amount (because its at $0 for these jobs) and Average Hourly Rate.
Option 4: Inter-entity Invoice
This is the most thorough of the methods but requires the most work. This method works best where the related entity 'owns' specific clients or jobs. We can identify these using Job Categories. For a related-entity client we need to first go to the client record>Options>Edit>Billing>Billing Client and edit the Billing client to be the related entity. This means all invoices for this client will go to the related entity.
We can then set up multiple separate jobs for these clients, add time to tasks and create invoices as we would for any other job.
Note: We can only connect one XPM to one Xero and vice versa. This means monthly/quarterly/weekly recurring invoices for related entity jobs/clients cannot be synced 'upward', they must be generated in XPM.
The benefit of this method is that it does not affect any of our reporting and our team and continue to work across our jobs as normal. We're using Job Categories to segment this part of our business, clients or services.
The downside of this method is that we are creating a high volume of accounts receivable at a full billable and invoicable value for our related entity. You can consider setting up Xero-to-Xero network connection to manage this as we will want these invoices treated like any other. You can manage any inter-company payments or reimbursements in your Xero's however from XPM's perspective the related entity is the same as any other client.
Enjoy this article? Buy the book.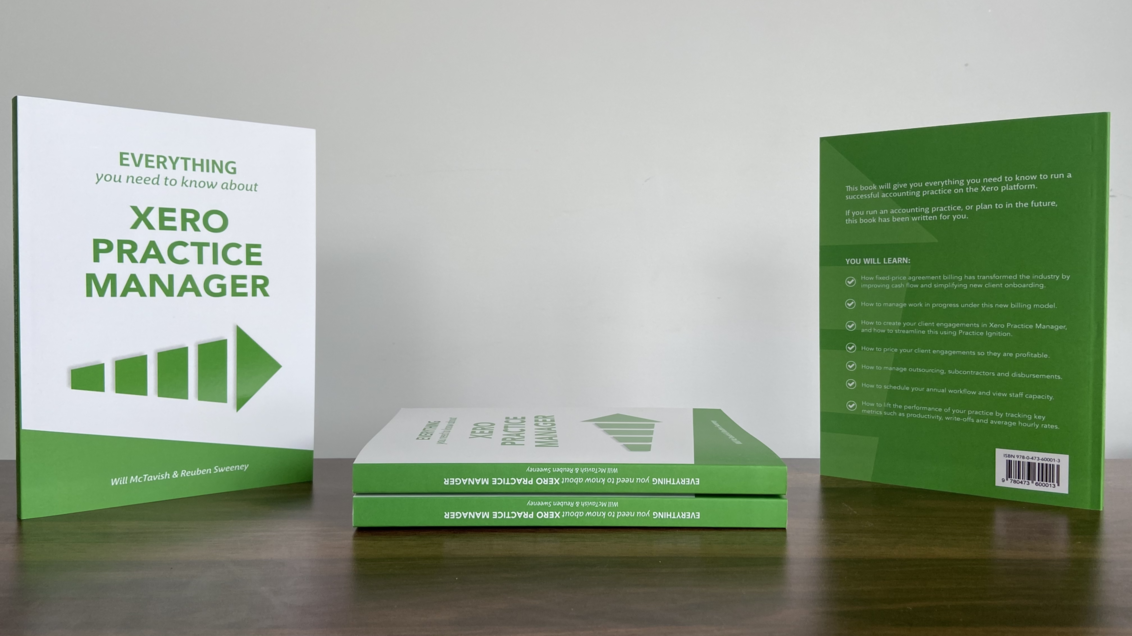 Need help setting up, fixing up, or getting up to speed on Xero Practice Manager?

We can help at www.linkedpractice.com