Background of Issue

When we enter time into XPM we can be entering that time as billable time or non-billable time. Billable time is time we enter against clients jobs which is considered productive time. This time accumulates as work in progress on the job which can then be be invoiced. Non-billable time is time we enter against internal jobs. Internal jobs are for internal activities such as for team meetings, training, filing or leave.

We recommend setting up two internal jobs to capture our non-billable time; one job for our internal tasks and one job for our leave. The client for the internal jobs will be the name of our organisation. We must ensure all of the internal tasks are marked as non-billable. You can do this by clicking into the task > edit task > un-check the billable checkbox. Time entered to this tasks will now be flagged as non-billable. By having this task flagged as non-billable it will not accumulate work in progress on the WIP ledger. This time will also be captured as non-productive time so when we run a productivity analysis on the organisation or an individual in Link Reporting we can easily break out our productive vs. non-productive time which is our billable vs. non-billable time.

A common mistake is organisations often forget to check the internal task as non-billable when setting up the Internal jobs . The problem that this causes is the work in progress is accumulated on your internal jobs therefore overstating your WIP balance. This also impacts the analysis of team productivity as all time entered is being flagged as productive.

To resolve this, we simply need to create two new internal jobs with internal tasks marked as non-billable and move the timesheets from the current jobs over to the new jobs.

How to Resolve

Firstly you will create new internal jobs for both leave and internal time. You will then enter the corresponding tasks for each job. When adding tasks to your internal time job we suggest entering multiple tasks for the internal activities you expect your staff to complete. Detailed internal tasks allow you to analysis where your internal time is going in order to improve productivity. You must ensure these tasks that are entered in the internal jobs are flagged as non-billable.
Once we have the new internal jobs set up, we want to migrate the timesheets from our current internal jobs that are marked as billable over to these new jobs. When we do this we can update the billable status of the timesheet entries to be that of the destination task which is non-billable. This is the fastest way to update all of your internal time to make it non-billable which will rectify your WIP and productivity issue and ensure your reporting is accurate moving forward.

Steps to Resolve
Create a new internal time job and a new internal leave job.

Enter the tasks required under these jobs.

Ensure all tasks are flagged as non-billable. You can check

the billable status of a task by clicking into the task . You can update the billable status of a task through Edit Task > un-check the billable checkbox.

Go to the current internal job > Options > Move Timesheets > Enter the new internal job as the To: destination > Bulk select all timesheets > Next.
Check the 'Update Billable Status?' checkbox and map your tasks through to the relevant tasks > save.

It is very important that this box is checked.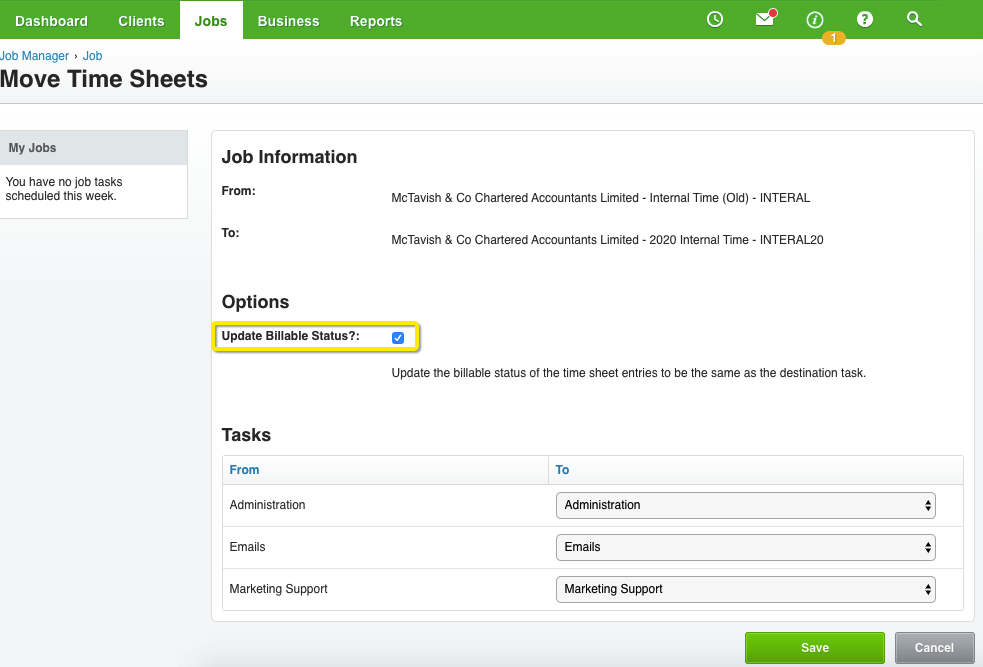 Note: you may need to repeat this process if you have a large number of timesheets on the job. XPM can only show a limited number of timesheets per page in the move timesheets function.
Once you have moved all the timesheets over we would recommend closing the old internal job out and setting up recurring annual internal jobs moving forward. It is a good idea to be rolling over your internal admin and internal leave jobs on a annual basis. This creates less load on XPM if we ever wanted to analyse the time. If we were to have 10 years of timesheets sitting in an admin job we risk not being able to load certain pages or reports. We recommend rolling these internal jobs over on the date of your new financial year. You will still be able to report across multiple years by reporting on the tasks.