This article is an extract from the book 'Everything you need to know about Xero Practice Manager'
Get a copy for your desk at www.linkedpractice.com
Practice reporting rhythms
In our practice we want to implement regular reporting rhythms so we can run a successful and profitable practice that our team loves to be a part of. There are key metrics we want to keep an eye on weekly, others monthly, and some we review on a biannual basis. We must ensure the information we are looking at is accurate and relevant to the decisions we need to make.
All the data we need to make good decisions is in XPM. In some cases the reports are available within XPM, but many of the metrics we want to track such as productivity and write-offs are just not readily available. XPM is also unable to produce key metrics such as average hourly rate on staff, jobs or even at a practice level. For this we need Link Reporting.
In this section we will look at the reports available in Link Reporting, when they should be viewed, and what decisions we want to make with the information. Here are the reports available in Link Reporting:
Job
Client

Client Performance
Client Profitability

Team

Team Performance
Individual Performance

Practice

WIP Performance
WIP Comparison
Practice Performance
Service Profitability.
Let's look at what reports we run and on what frequency.
Biannually
Every six months we want to catch up with our staff to check in and see how they are getting on. We want to discuss both financial and non-financial aspects of their work, and make sure they are feeling safe, valued, and that their work gives them a sense of purpose.
The Staff Performance report is an excellent talking point when we catch up with our staff for a biannual review. This report allows us to talk about their financial performance and review their targets. Targets are important because they give our staff something to aim for, which creates a sense of purpose in their work.
It is important to note here that the Staff Performance report exists to enable good conversation, and we should not make decisions off the data alone. This is because there are so many drivers of the data, many of which are out of the staff member's control, such as a fixed price on the job.
Individual Performance
If our staff perform well, our practice will perform well. A key objective for our practice therefore is to support our team to be as productive and efficient as possible. We do this by providing a supportive environment and setting goals for our team to work towards. Goals create purpose and a sense of fulfillment when they are achieved, so we want to be transparent around the targets and how our team is tracking towards them.
Productivity and write-offs are the two metrics that a staff member can control. They can improve their productivity by spending more time on billable work rather than in internal meetings. They can improve their write-offs by being more focused and efficient at their work. A task that takes eight hours can usually be done in four hours with the right focus. The key here is working on the right activities and staying focused while working on them. If our staff are more productive and more efficient, their ROI and average hourly rates will increase. We want to incentivise our staff to lift these output metrics by offering bonuses and pay rises when targets are met.
Performance reviews are important to conduct on an annual or biannual basis. An organisation is a group of people working towards a common goal. If we are not looking after our people, our organisation will not run as well as it could, and we risk having good people leave for greener pastures.
We ideally want our average hourly rate KPI for our staff members to be three times their wage cost. This aligns with our ROI target of 300% as it assumes 75% productivity and 0% write-offs. If we pay our staff member $50 per hour, their billable rate would be set at $200 per hour. At 75% productivity, we arrive at an average hourly rate of $150 per hour – which is three times the wage cost. This is a great rule of thumb for staff who have been hired to complete work. Do keep in mind, however, that this may be lower for staff who are involved in business development or administrative activities.
If someone is outperforming their salary, it is important we recognise that and adjust accordingly. The biggest mistake we can make is underpaying our star performers, because they will eventually leave for greener pastures. We want to build a practice of star performers and we do that by giving them a reason to work hard.
Let's look at an example.
Say Haylie has worked for us for four years and has always turned up on time, has been engaged in her work, and is a valued member of our team. We sit down with Haylie for her biannual review and talk about her goals for the upcoming year. She tells us she just got engaged to her partner Ray (who is a lovely bloke) and is looking to buy a house. A pay rise would be really helpful.
Haylie is currently on $75,000 per annum, which is $39 per hour. Her billable rate is $150 per hour, and productivity over the past six months has been 70% and write-offs 10%. This gives her an average hourly rate of $94.50. Despite Haylie being a valued member of our team, we are actually overpaying her for how she is performing.
We want to keep Haylie, however, so we offer her a $5,000 pay rise if she can lift her average hourly rate to $120. We explain that she can achieve this by lifting her productivity to 80% and reducing her write-offs down to 0%. To do this she needs to get her jobs done faster, and avoid getting caught up in unnecessary internal meetings.
It turns out that Haylie wasn't been working as hard as we thought she was. She was completing her jobs based on how much work was assigned to her, not completing them as quickly as she could. Now that she has a goal to aim for, she is finishing jobs as quickly as possible and asking for more work when she runs out. Over the next six months we see Haylie's productivity jump to 82%, and she achieves an average of 5% write-ups on her jobs. This 15% improvement in write‑offs happened because she was much more focused when working on her jobs.
Haylie's average hourly rate jumped from $94.50 to $129.15. This lift in average hourly rate increases the annual revenue Haylie brings into our practice from $181,144.00 to $247,968.00. An additional $66,528.00 per year! All Haylie did was lift her productivity by 12%, and improved her write-offs by 15% by being more effective with her time.
As we can see in this example, a change in attitude can have a huge impact on the performance of our team. By working with our team to set goals, they take ownership of them and feel inspired to achieve them. The key metric to focus on is their average hourly rate and explain how this can be improved by increasing productivity and reducing write-offs.
ROI is a great metric to look at to get an idea of how the staff member is performing in relation to their salary, but is generally not used in a performance review. Use the ROI to help set average hourly rate targets, but don't use it as the target itself because it can make staff feel like they are just a number on paper and not valued by the practice.
To keep staff motivated and engaged, set up Link Reporting to send individual weekly performance reports so staff can see how they are tracking against their targets. Create an Individual Performance report for each staff member that shows the past 12 weeks, and schedule this to be sent to them as a PDF each Monday. This allows them to track their productivity on a weekly basis, and on a monthly basis schedule an Individual Performance report that includes their write-offs and effective average hourly rate. By the time you have a performance review, your staff should already know how they have performed against the KPIs you agreed in your previous meeting. You can help your team succeed by providing them the information they need at www.linkreporting.com
Enjoy this article? Buy the book.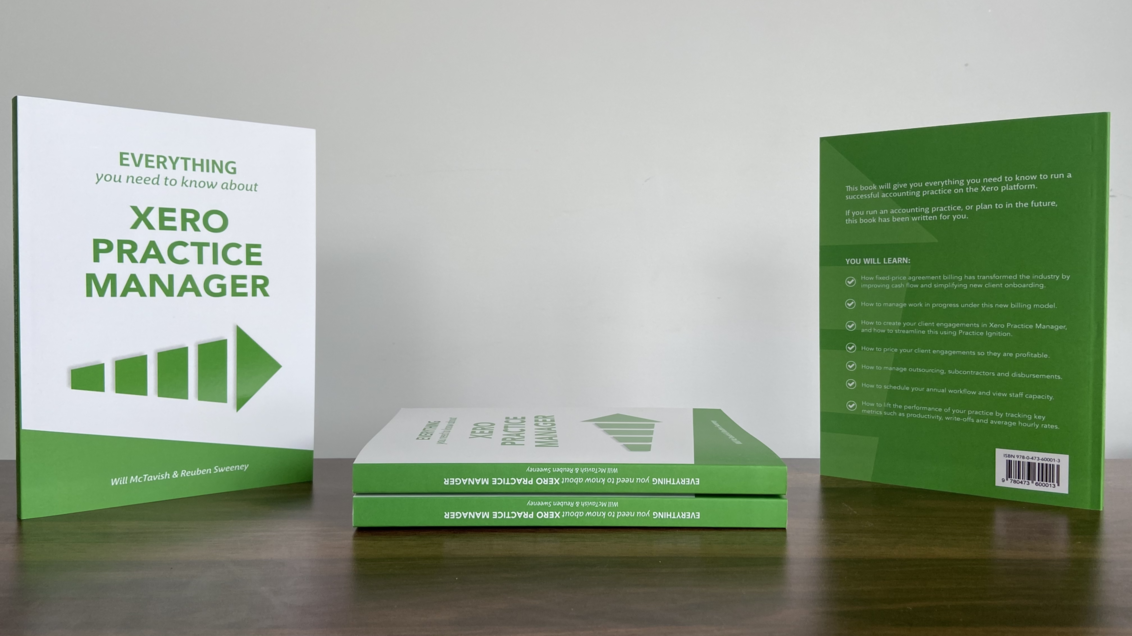 Need help setting up, fixing up, or getting up to speed on Xero Practice Manager?

We can help at www.linkedpractice.com