This article is an extract from the book 'Everything you need to know about Xero Practice Manager'
Get a copy for your desk at www.linkedpractice.com
There are some settings in XPM you need to get right. In this section we'll be reviewing the essential settings to ensure your practice is set up to succeed.
To get started, go to 'Business > Settings > Xero' in your XPM.
Xero integration settings
When your Xero is connected to your XPM, there are a range of options available to you. We will be covering how this integration works in a lot more depth in the next section, however, now is a good time to understand the Xero integration settings we'll need to use. These settings determine the information that flows through to our Xero and the information we have to work with when preparing our invoices to send to our customers.
Income and cost of sale accounts
These are your default income and cost of sale accounts to be used when no job category is found against a job. Every client job should have a job category, but if this is missed, this is the account that your revenue will post to when an invoice is sent to Xero.
The cost of sale account setting is very rarely used. In the accounting industry our biggest cost is our time, which is captured by our time sheets and represented on our profit and loss as wages and salaries expenses, not as a cost of sale. The exception to this is subcontractor or outsourced service provider fees.
Subcontractor or outsourced service provider fees will be entered against the jobs they relate to in order to accurately capture the profitability on those jobs. When we create and receipt a purchase order in XPM, an accounts payable invoice will be created in your Xero representing the value of this supplier invoice. The account used will either be the expense account set on the cost found in 'Business > Settings > Costs' or this default cost of sale account. If you do regularly use subcontractors or outsourced service providers, select this direct cost account here.
Clients, suppliers and contact person
You want the sync between XPM and Xero to occur every time a client or supplier detail is updated in XPM. Note that this does not sync both ways, updates to Xero contacts will not update XPM. When updating a client record, you need to update this in XPM.
You do not want to update your contact person in Xero each time you post an invoice across to Xero from XPM. Your Xero contact is likely to be the accounts department of your client but your contact person in XPM is likely to be your point of contact on that job, eg. the business owner. We don't want these continually battling it out for dominance of the Xero contact record.
Invoices
Export your invoices as drafts, as we may need to add information to those invoices in Xero prior to sending them to our customers. This is much easier to do on a Xero draft invoice.
Use the Xero numbering sequence, especially where you have fixed-price agreements or Xero repeating invoices set up. You want your XPM invoices to stay in time with this numbering sequence.
Including invoice descriptions from your XPM invoices through to your Xero draft invoices is optional. It is rarely used as we take our invoice descriptions either from the job description or from the tasks and costs that make up that job. If in doubt, tick this on and if you find yourself constantly removing these descriptions from your Xero invoices, then you can tick it off at any time.


We'll be covering the invoice formatting in the next section.
Enjoy this article? Buy the book.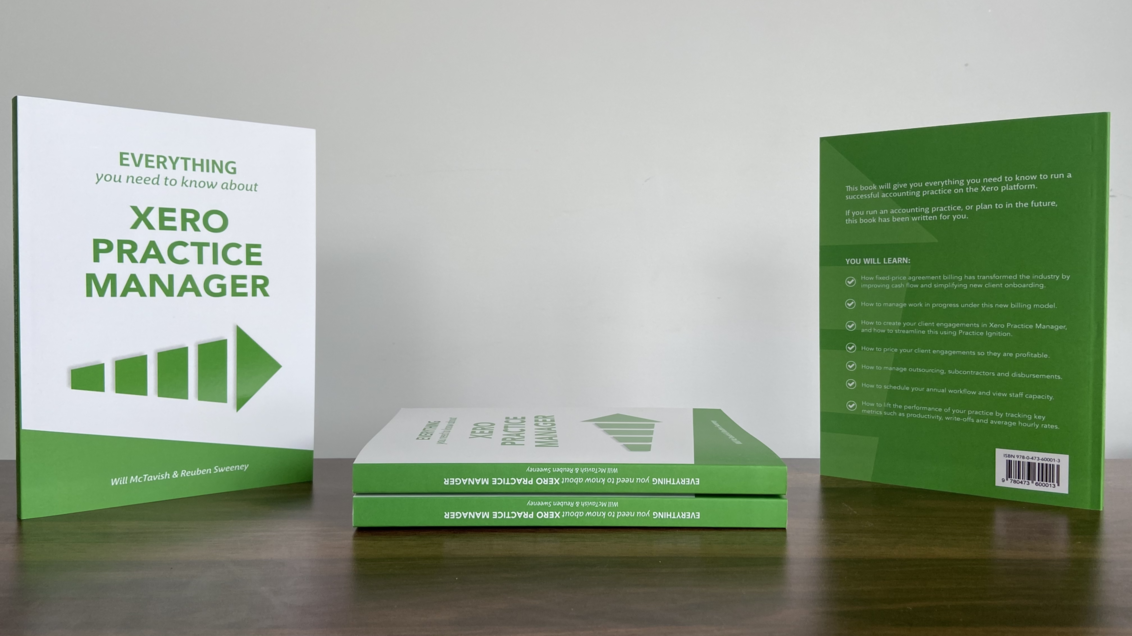 Need help setting up, fixing up, or getting up to speed on Xero Practice Manager?

We can help at www.linkedpractice.com