This article is an extract from the book 'Everything you need to know about Xero Practice Manager'
Get a copy for your desk at www.linkedpractice.com
Here are six steps to making time sheets easier for your team:
Set the expectation at the beginning of employment

Make it clear upon starting at your practice that time sheets are part of daily routine. It is much easier to set expectations up front than to try and change behaviour down the track. Time sheets are the foundation of all your WIP, team and job reporting, so if you want to improve the performance of your practice, time sheets are mandatory. If people don't want to track their time, they should not have gotten into a profession where they convert time into value, into money.


Keep your tasks simple

There are many steps involved in delivering a service or part of a service. Despite being called tasks, we don't want to separately identify all the steps involved in an engagement. This slows down the time taken to complete a time sheet and creates confusion on the part of the people doing the time sheet. The fewer task options we have, the more likely our team will select the correct one that relates to the activities they have performed. Where many task options exist, time sheets are more of a burden and it is less likely our team will select the correct task that matches their activities. This leads to less reliability for our job, team and task reporting.


Only allocate people to the jobs they need to add time to

You may have hundreds if not thousands of jobs open at any one time within your practice. Inviting all people to all jobs seems like a great time-saving measure at the beginning, but quickly increases the burden of time sheets across each of your team members. If you have 20 staff doing five entries a day and it takes them an extra three seconds each to find the job they are looking for, these numbers quickly add up in time and frustration. Only allocate jobs to the people who need to add time to them. This can occur at the start of the job or anytime throughout.

For job managers that may need to be across more jobs than they need to add time to, ensure they are added as a Job Manager. This will make their jobs visible in the 'Job Manager > Jobs I'm Managing' tab without clogging up their time sheets with unnecessary jobs.


Complete tasks as you go

Not everyone who works on a job is involved all the way through. For longer running or more complex engagements we may have several people working on a job at different stages of the job. Next to each task in the job is a small checkbox that is used to identify when a task or sub-task is completed. This allows job managers to quickly view progress on a job and also removes this task from future time sheets. This has two benefits:
a. Simplifying time sheets for our team. As the job progresses, fewer time sheet options become available.
b. Locking in any unders/overs on task estimated vs actual times. This prevents the temptation of staff to add time sheet time to earlier completed tasks to hide overruns in later stages of a job.


Use a single admin job

The job that is used with the highest frequency is your admin job. It will be used at least daily by each billable team member and for multiple entries a day for each admin and management team member. You can make everyone's lives easier by ensuring you have a single admin job with five to eight tasks which broadly describe the area of the business that person is working in. Order these tasks from most to least used to speed up time sheet entry even more. Here are some suggestions:

• Internal Meetings
• Business Administration
• Sales & Marketing
• Accounting & Finance
• HR & Recruitment
• Internal IT
• Travel Time

Keep your admin tasks simple and broad to speed up time sheeting. We'll be relying on people's time sheet narrations to provide the detail. It is tempting sometimes to break these internal activities up with the idea of improving reporting. We don't make money from internal time. Where we need to report on it, it's generally for billable team members with a view to reducing the amount of time or internal projects they are involved in. Avoid over-complicating this area of your business. Every other team member will pay the price for it in the time taken to complete their time sheet.


Provide multiple methods of entry



One of the many areas XPM does well is the variety of time sheet methods available. They are, from fastest to slowest:
a. Time Clock
b. Mobile App
c. Enter Time (weekly view)
d. Enter Time (individually)
e. Direct Into Job.

Not everybody takes to any one method of time sheeting. Some people like to do their time sheet throughout the day. This requires more discipline and is good for billable team members who may work on four to six jobs or less each day for longer periods. The time-clock method suits these people best. This method is also popular amongst job managers who frequently work across many jobs in a day but in small increments.

Not everybody does their time sheet at their desk or works from their desk. People who are in and out of meetings or often away from the office can complete their time sheets from the mobile app.

Some people track their time via a calendar or even a diary. These people can enter their time via the weekly view by going to 'Dashboard > Enter Time > Weekly'. This method works well for people who work on fewer jobs for longer periods as we can quickly enter time across multiple days into the same job and task.

Some people prefer the traditional method of time sheeting which is individual time sheet entries. This method is the slowest of all but is available via 'Dashboard > Enter Time'.

Regardless of the method used, it is important that your team know that multiple methods exist. Some people do not receive the training they should on this and aren't aware that multiple methods exist for entering a time sheet. By allowing your team to select the method that best suits them, you will reduce the friction involved in capturing time for them, and improve the frequency and quality of the time sheets in your practice.


Enjoy this article? Buy the book.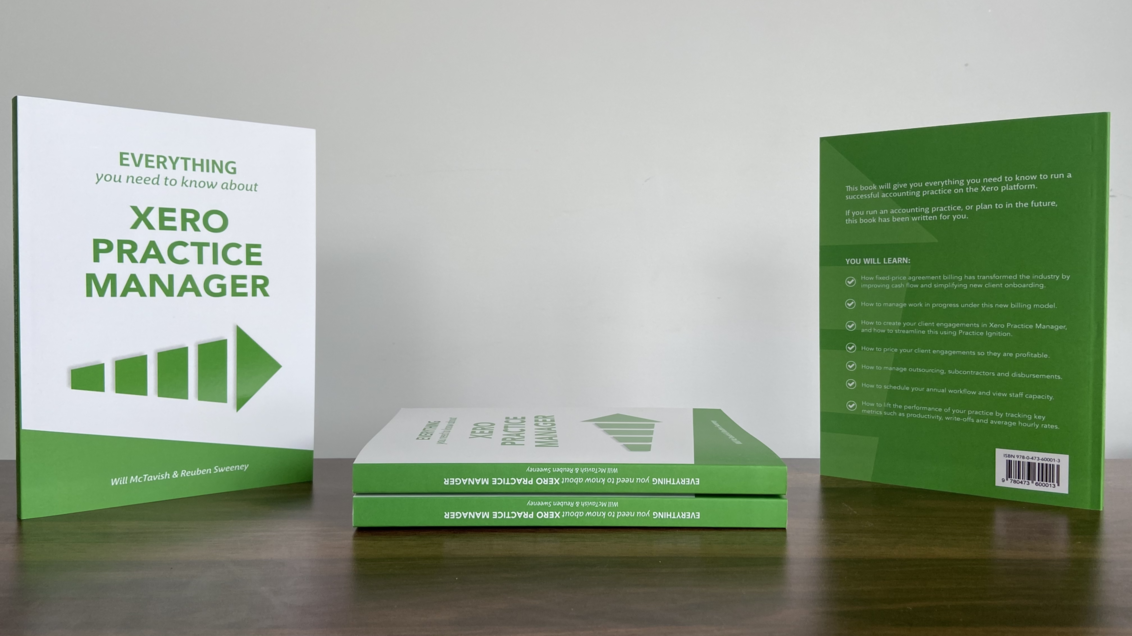 Need help setting up, fixing up, or getting up to speed on Xero Practice Manager?

We can help at www.linkedpractice.com