This article is an extract from the book 'Everything you need to know about Xero Practice Manager'
Get a copy for your desk at www.linkedpractice.com


Advice on engagements
Before creating or updating your engagements, here are seven valuable lessons:
If you are going to fix the fee on a service, scope your work.

Before you put a fixed-price on a service, ensure you know exactly what it is you will and will not be doing as part of that service or engagement. Be very clear about the information required, the timeframes for delivery, and the expected outputs or end result.


If you're going to fix the fee on a service, ensure you have a fixed process for delivering that service.

Having clear processes or instructions for delivering a service to your clients within your practice, whether that be for compliance or advisory-based work, is essential where you are fixing the fee of those services. This ensures consistency of delivery for your customer, and allows you to align internal training and skills with delivering those services profitably. If you don't have your processes down, don't fix your fees.


Unlimited and lifetime services

There are limits to our resources and there are limits to our lifetimes. Be very cautious in using these words as they set unrealistic expectations for your clients. Happiness is the gap between expectation and reality. You can consistently deliver happiness for your clients by over-delivering on your services and managing expectations. Your clients may not have worked with other accountants, so have nothing to compare you against except their expectations from the engagement vs the reality. An example of this would be 'unlimited phone and email support'. Just be careful.


Variable services

Some services are inherently variable, eg. phone and email support. It is okay to offer these as part of a fixed-price annual engagement, however you need to have a system for managing these enquiries and be very clear about the method, frequency and expectations of response. We want to hear from our customers so we do not want to discourage their contact with us.

If you're going to provide a fixed-price annual engagement and you include phone and email support, ensure you account for the fact that you will be contacted regularly. A common mistake practices make is providing a fixed price to cover the cost of preparing the annual accounts and including free or unlimited support to sweeten the deal. What can end up happening is your team finds themselves slammed with queries and constant disruptions. They end up turning off their phones or become slow to respond to emails, which frustrates the customer as their expectation is that you are on call.

Imagine your typical client services manager with 80 client groups. If they receive just one 10-minute call each month, this quickly adds up to almost two days' work per month that they could otherwise be billing at their average rate of $125 per hour. That's $2,000 worth of potentially lost revenue per month for each client services manager. Make sure you build this opportunity cost into the price of each engagement and monitor this annually at renewal time.

Below are some tips to manage these expectations while still offering this service.

Email questions can be grouped together and many questions can be answered by resources you create internally. Create yourself a knowledge base and teach your team to refer to this to speed up client queries.

Phone support is expensive to offer but some people just want to talk. This includes people with English as a second (or fourth) language, hearing impaired, elderly and other disabilities. It's good to offer this service, however phone calls can be disruptive, especially where accounting often involves deep or focussed periods of work. If/when people do call, ensure they are not calling your team directly and have a process where they can organise a time for a quick chat. Use an app like Calendly.com to have your team manage these calls within the same one to two-hour window on specific days of the week. Let your team choose when they most like to make/take phone calls.

For both of the above examples of variable services, you will need to estimate how many phone calls and emails you can expect to receive per month or week from a client prior to starting the engagement. It is essential that even five-minute phone calls are captured here as their frequency and duration can be used to support fee review decisions in following years.


Make your fine print your big print

Absolutely have tight terms and conditions on your engagements. But take the time to pull the most pertinent parts of those and put them on the front page in bold lettering. Do not hide behind your terms of engagement. If you find yourself having to refer to them with your customer, you've already lost that customer.


Verbal agreement prior to engagement

By the time you send your engagement offer you should have already listened, estimated, priced and discussed the services you will and will not be delivering as part of your engagement, and at what price. The written form of the engagement is just the contractual side that represents an existing verbal client agreement. Your customer should know what is in the engagement before they have received it, as they have already reviewed it with you. This includes details on the pricing and services included/excluded in the engagement and any additional services or fees that might be incurred.


Variations

Variations happen. Plans and situations change. In particular, where you are working on engagements on an estimated basis using last year's accounts as the basis for those assumptions, it is important to discuss with your client what happens when/if variations occur.

Accountants often price their fixed-fee services based on last year's work, but this can become problematic when the business suddenly becomes more complex. They may have multiple new entities, they may have purchased a bunch of new assets, they may have new internal accounts staff who require more training. All of these things are times to stop, assess and communicate the situation with your customer before you deliver the work. Enable your people to raise their hand and have those conversations with your clients.

Use the word 'because'. Humans love causation, we've been doing it for millennia. We feel more comfortable when we perceive two events to be related. If you can, communicate ahead of time that some part of the services required are outside of the existing engagement 'because of...' some client-related event. Your clients will love you for it.

Do not deliver the services that fall outside of scope and tell yourself you will 'make it up on next year's engagement' or 'make it up on their other entities'. You won't. You'll face the same problem next year too, until you learn to communicate what happens when a variation occurs with your clients.
Enjoy this article? Buy the book.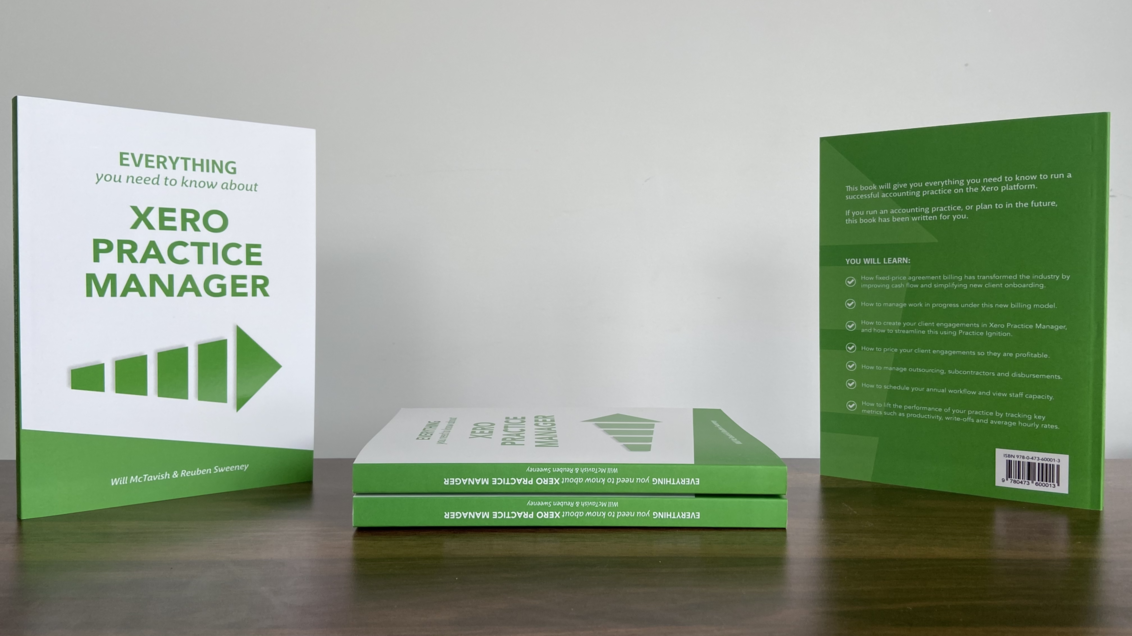 Need help setting up, fixing up, or getting up to speed on Xero Practice Manager?

We can help at www.linkedpractice.com