This article is an extract from the book 'Everything you need to know about Xero Practice Manager'
Get a copy for your desk at www.linkedpractice.com
How to set up Practice Ignition
Setting up Practice Ignition only takes 1 – 2 hours. You are then ready to send proposals to new clients, collect payments, and deploy invoices and jobs to Xero and XPM. Below are the steps to set up Practice Ignition once you have signed up to a trial.
When you first set up your trial of Practice Ignition you will arrive on the discover page which includes useful tips and tricks to help you set up your account. Take a moment to check out the videos on the discover page, then move onto setting up each area using the below sections as your guide.
Setting up integrations with Practice Ignition
Integrating Practice Ignition with both Xero and XPM is fundamental to setting up the full solution outlined in this book. To do this you will be required to sign up to a Professional License with Practice Ignition. You can select this option while you are on trial and setting up your account. To set up your integrations, go to the 'Apps' section in the menu and integrate with Xero first, then with Xero Practice Manager second.
Start by clicking on the Xero icon on the 'Apps' page and connecting to your practices Xero organisation. You can then configure your Xero integration. Under the accounts and invoice terms section, ensure 'Create Invoices' is toggled 'on'. This means Practice Ignition will create invoices in Xero based on the proposal invoice terms. The 'Default Sales Account' will be overridden by the revenue codes you allocate to each of the services you set up (which we will look at in the next section). You can put your standard revenue code here as this should always be overridden.
'Initial Invoice State' can be set to your preference. This is the state invoices will arrive in Xero when they are created by Practice Ignition. 'Draft' is most commonly used, but you can send these straight through to 'Awaiting Payment' if you would prefer to skip the step of bulk approving them in Xero.
'Include Service Description' will create a new line in the Xero invoice for each service in the engagement. This comes down to what your preference is. If this is left off, the invoice in Xero will just show the service name. If this is toggled 'on', it will also show the description of that service.
'Client Name Sync' is the next option you have. When this option is toggled 'on', the contact for the client will be updated in Xero to match the contact in Practice Ignition. This can be left as on, but turned off if you find it is creating issues with contact names being updated when you don't want them to.
Next you have 'Default Invoice Terms'. This will set the due date on your invoices to that number of days after your invoice date for any non-recurring invoices. 'Recurring Invoice Terms' will set the due date on your recurring invoices to the number of days after your default company invoice day. These settings should be set to match your 'Payment Terms' settings which can be found under 'Settings > Payment Gateway Settings'. This means that payments will always be deducted from your clients account or card on the due date of the invoice.
The last section on this page is your 'Branding Themes'. Choose the invoice templates you want Practice Ignition to use when it creates invoices in Xero. The final thing we need to set up for our Xero integration is your tax mappings. These should be fairly easy. Just map the relevant tax codes together.
Once your Xero integration is set up, you will need to integrate Practice Ignition with XPM. Click on the XPM icon and select your practices XPM account to sync with. This may take a few minutes to process as the databases sync. Practice Ignition will be pulling a lot of information from XPM, most importantly, your job templates, which are used to set up your services.
Enjoy this article? Buy the book.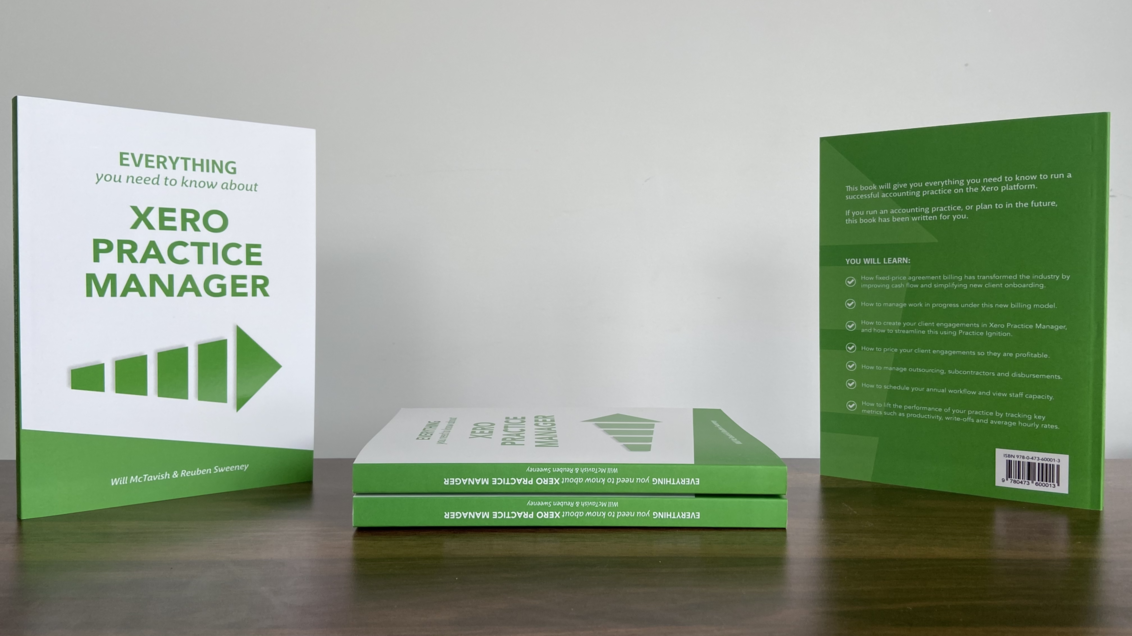 Need help setting up, fixing up, or getting up to speed on Xero Practice Manager?

We can help at www.linkedpractice.com