This article is an extract from the book 'Everything you need to know about Xero Practice Manager'
Get a copy for your desk at www.linkedpractice.com
How to set up Practice Ignition
Setting up Practice Ignition only takes 1 – 2 hours. You are then ready to send proposals to new clients, collect payments, and deploy invoices and jobs to Xero and XPM. Below are the steps to set up Practice Ignition once you have signed up to a trial.
When you first set up your trial of Practice Ignition you will arrive on the discover page which includes useful tips and tricks to help you set up your account. Take a moment to check out the videos on the discover page, then move onto setting up each area using the below sections as your guide.
General settings in Practice Ignition
You will find general settings in the menu under 'Settings > General'. The first section in the general settings is 'Company Information'. All fields in this section are self-explanatory, so fill them out using your own judgement.
The next section is 'Recurring Invoices'. Here you will set the default day of the month your invoices will be raised and sent to your customers who are on fixed price agreements. You can select any date here, but the most common is the 1st of the month. If you are following the advice in this book, you will not be using weekly recurring invoices so you can leave this set as the default.
'Proposal Settings' is the next section. 'Default Pro-rata' is the first decision you need to make. This toggle will be set to 'on' by default, and is best left on. This means any proposals that are accepted after the start date will incur retrospective billing upon acceptance. For example, if your proposal start date is the 1st of January, and the proposal is accepted on the 5th of March, your customer will be billed for January, February and March upon acceptance. This is great for ensuring you do not miss payments for late acceptances. This can be overridden at a proposal level, but is best left 'on' at all times.
'Default Proposal Start Date' is next. This is the default start date the proposal will use when you create a new one. This can be overridden at the proposal level, but this default date will speed up the proposal creation for you. This is best set as the start of your financial year.
'Display Contracted Period and Value to Client' describes whether you would like to show the total contract value in your proposals. For example, if you are billing $500 per month over 12 months, do you want to show $6,000 on the proposal? Generally, for fixed price agreements we do not want to show this because it makes the fee look larger. For one-off engagements however, we may want to show this. This toggle is best set as 'off' by default, but you can toggle it back on at a proposal level for those one-off engagements you would prefer to display the total contract value.
'Acceptance Email Notification' is who you would like to send emails to once a proposal is accepted. 'PDF Page Size'. This is best left at A4, unless you have a good reason to change this. This is the size of the PDF when proposals are exported.
'Proposal Reminders' is the next section. This is an excellent feature which will help you get your proposals accepted with less time and effort. Leave this toggle 'on' if you wish to use this feature. The first option in this section is to select how many days Practice Ignition will wait before a reminder is sent. You can update this to whatever you like, but between 3 – 7 is most common. The next option is how many reminders in total you would like to send. Between 3 – 5 is most common, but select whatever you think will be most effective for your practice.
The last section in general settings is 'Client Notifications'. The first option in this section is 'Invoice Notifications'. This is best left toggled 'on', as clients will receive an email with a link to your Xero invoice. The next option is 'Payment Receipts Notification'. Leave this toggled 'on' if you would like your customers to receive an email to advise them when we have successfully collected the funds from their account.
Enjoy this article? Buy the book.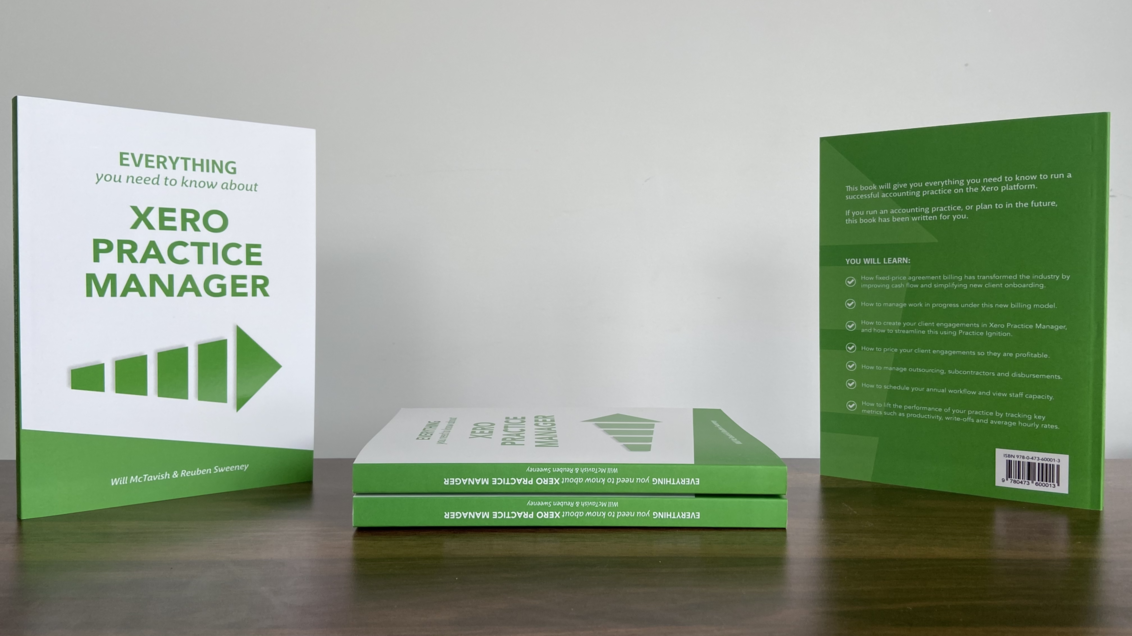 Need help setting up, fixing up, or getting up to speed on Xero Practice Manager?

We can help at www.linkedpractice.com