This article is an extract from the book 'Everything you need to know about Xero Practice Manager'
Get a copy for your desk at www.linkedpractice.com
How to set up Practice Ignition
Setting up Practice Ignition only takes 1 – 2 hours. You are then ready to send proposals to new clients, collect payments, and deploy invoices and jobs to Xero and XPM. Below are the steps to set up Practice Ignition once you have signed up to a trial.
When you first set up your trial of Practice Ignition you will arrive on the discover page which includes useful tips and tricks to help you set up your account. Take a moment to check out the videos on the discover page, then move onto setting up each area using the below sections as your guide.
Setting up services in Practice Ignition
After setting up your integrations in Practice Ignition, you will set up your services. Services are the items we add to our engagements. These services map to our job templates in XPM, so when the proposal is accepted, Practice Ignition will create a job in XPM using the job templates that the services are mapped to.
A great benefit of using Practice Ignition is that job templates are much easier to set up because we don't need as many. When using XPM, we would need to set up a specific template for 'Annual Accounts + Bi-Monthly GST + Standard Xero Subscription'. Whereas in Practice Ignition you can set up 'Annual Accounts' as a template, 'Bi-Monthly GST' as a template and 'Standard Xero Subscription' as a template, and combine them when creating an engagement. Amazing!
This makes things much easier when you consider the all variations you will have in your engagements. You really only need to set up 10–15 job templates, then pick and mix them based on your engagement with the client. Whereas when using XPM, you'll need a long list of variations of each template and start building custom job templates for clients that fall outside the standard templates. This is where Practice Ignition will save you a lot of time and add consistency to your engagements and jobs.
Let's look at an example:
Say we send a proposal to a client that includes annual accounts, two-monthly GST and a standard Xero subscription, we would build this in Practice Ignition using three services. Each service will map to a job template, so we first want a job template set up for each service – 'Annual Accounts', Two-monthly GST' and 'Standard Xero Subscription'.
In the 'Annual Accounts' job template, you may include the following tasks:
Annual Accounts – Preparation
Annual Accounts – Review.
In the 'Two-monthly GST' job template, you may include the following tasks:
GST – April/May
GST – June/July
GST – August/September
GST – October/November
GST – December/January
GST – February/March.
Note that all these tasks are the same task, but have different labels to represent the period. In the 'Standard Xero Subscription', we would put no tasks on the template, and instead would include the Xero subscription as an estimated cost.
Standard Xero Subscription
As discussed earlier, it is important to ensure that the job template in XPM is set to have the costs created on the job as estimated costs. This is to avoid a gigantic spike in WIP that would occur on all jobs rolled over that have an actual cost for the Xero subscription.
Once you have all these job templates set up, you can set up your services in Practice Ignition by going to 'Library > Services > New Service'. Give the service a name and description then choose the appropriate job template from XPM. You may also want to set the default billing time to be recurring, although this can be updated in the proposals when you create them. Add a price, choose the revenue account, then hit 'Save'.
Once you have all your services set up, you are ready to create your first proposals.
Enjoy this article? Buy the book.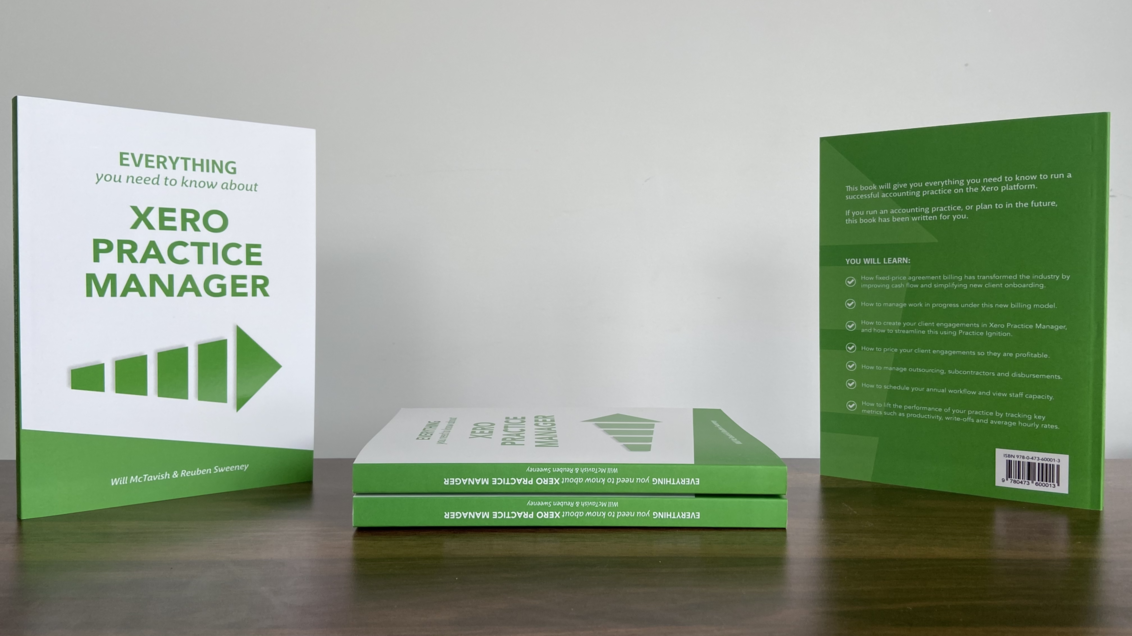 Need help setting up, fixing up, or getting up to speed on Xero Practice Manager?

We can help at www.linkedpractice.com